I have ridden my Ray 1X for almost 3 years and I could not be more pleased with the bike, the mid drive system with 2 chains greatly reduces chain noise and also chain care, which I like. Those longer chains are too noisy and time consuming to care for.  One thing I did change was the tires, I now run Schwalbe Big Apple 20X2.35 inch tires and for the type of riding I do, I could not be more pleased with them.  The bike is by design a very comfortable and well handling bike, these new tires add even more comfort and because of the tread pattern better handling still, the bike now handles like a little jet fighter and it is more stable on pavement that has loose sand and gravel over it-another plus.
I think the Maxarya Ray 1X is the best comfort recumbent bike ever made.
There is nothing that even comes close to it for more reasons than I have time to go over.   I am very eager to see the new long wheel base bike you folks are working on, I hope it has many of the same well designed features that I have come to admire and respect on the Ray 1X.
Paul Wolfgram
RPH, Grand Forks, USA Maxarya rider since 2004
Yesterday I rode about 70km to test my Ray-1X at highway, city and country unpaved roads. UALLL, what a bike!  Really enjoy it a lot. In unpaved roads with a lot of holes and nodulations the suspension make a huge difference.
And Ray is a fantastic recumbent climber. It goes much better and faster in a hill than my other two recumbents.
I picked about 65km/h in some down hills and the bike still very "in control" for the velocity.
Before ride Ray I have certain about my new bike will be a HP, but now I am thinking different, and Maxarya have a lot of chances to be my new bike as well!
Thanks,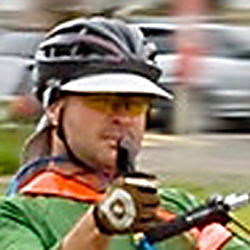 Marcelo Bartoszeck
Curitiba, Brazil Maxarya rider since 2010
Attached is a picture from June 2006 while I was riding my great Maxarya recumbent in the annual Bike across Kansas event. (The lady in the picture is my wife, Shirley, who provided valuable moral and logistical support during this 7-day trip across Kansas.)  This involves a trip from the Colorado border in the west to the Missouri border in the east–a distance of about 450 miles. Program organizers limit the ridership to about 900–quite a throng when biking through the small Western Kansas towns of less than 1,000 population.
This recumbent is the second 'bent I've owned–and by far the most suitable for me needs–simple, clean design, good handling characteristics (especially when equipped with the optional 20 inch front wheel), quality components, a nice balance between weight, structural strength and "pedalability".  And the price was very competitive when compared with reasonable alternatives. Thank you for producing a quality recumbent which I can recommend without reservation to serious recumbent riders.
Sincerely,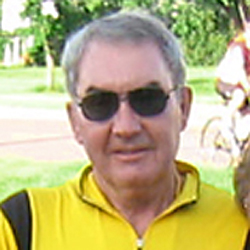 Jim Goering PhD
North Newton, USA Maxarya rider since 2006
I purchased a Ray-1X a few years back. This is the best bike I have ever owned (and I've owned several recumbents). It is a great bike.  Fast.  Faster than my Vision, and also considerably faster than my BikeE.  And considering that I can't go too fast without a front brake, I don't think I have even come close to maximum speed yet.  Also, this bike cannot be beat for comfort.  BikeE made a great seat with their "sweet seat", but Maxarya is even more comfortable.  I've also ridden a RANS Tailwind, and I believe this bike is also more comfortable than that.  Clearly you guys build a top-notch bike.
Thanks again.
Jerry Teisen
NJ, USA Maxarya rider since 2007
Perhaps fall colors probably aren't that special in Canada?!
But it's a major fall event in Japan and riding through the mountains on my new Maxarya is really a great way to view the foliage.
Regards,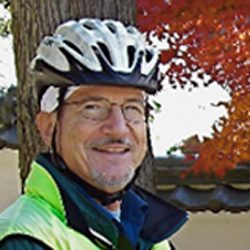 Charles Kite
Stevenson, USA Maxarya rider since 2011
I enjoy the ride all the time.  What is more, you have all been so attentive to me, my sharing my experience to potential customers is the least I can do to say "Thank You."
Please enjoy the attached picture.  Where I live is at the entrance of New York harbor by the Verrazano Bridge.  I ride in the old fort grounds all the time.
 BTW:  On the 5 Boro Bike Tour yesterday in the rain, my Ray 1 was superb and turned heads everywhere.  I am always on the lookout for another owner and my friends tell me there is someone with a yellow Maxarya on the Hudson River bike path every once in a while.  Anyway, my bike was terrific all through the tour. Aside from the usual comments the new one was:  "Wow, you look like you are riding in a lounge chair.  Is there a wet bar with that?"
Arturo Porazzi
NY, USA Maxarya rider since 2010